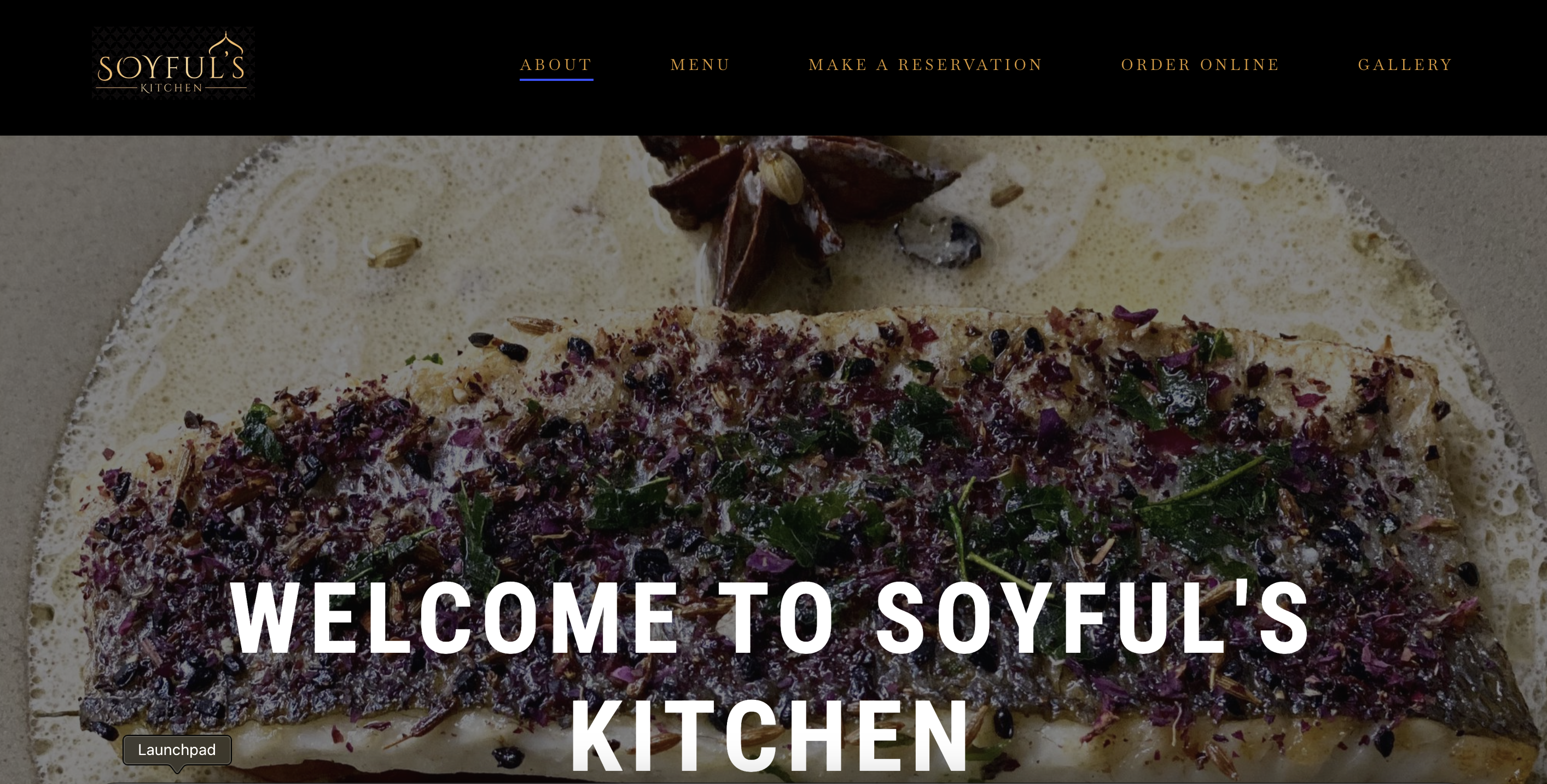 What We Did
Web Development, Responsive Web Design,  SEO
Client Overview:
Soyful's Kitchen is an authentic Indian restaurant, offering a tantalizing journey through the rich and diverse flavors of India. Renowned for its delectable cuisine and warm ambiance, the restaurant has become a culinary landmark for food enthusiasts.
Our Role:
Our agency had the delightful opportunity to develop the website for Soyful's Kitchen. The project's centerpiece was to create an inviting online presence and integrate a sophisticated yet user-friendly booking system.
Design and Functionality:
Culturally Rich Design: We infused the website with the vibrancy of India, using a palette of warm, inviting colors and imagery that evokes the country's spirited food culture. Every page invites visitors to immerse themselves in a sensory feast.
Interactive Menu Display: The website features an interactive menu, complete with mouth-watering descriptions and images of dishes. This allows customers to virtually experience the flavors before setting foot in the restaurant.
Sophisticated Booking System: We developed a cutting-edge booking system tailored to the needs of both customers and the restaurant team. It's an intuitive, reliable tool for managing reservations, special requests, and peak dining times.
Customer Notifications: The system sends timely notifications to customers, confirming reservations and providing updates. This feature enhances customer engagement and helps build a loyal clientele.
Ease of Management for Owners: The backend of the booking system is designed for efficiency, allowing the restaurant staff to easily update menus, manage reservations, and communicate with customers, all from a simple, user-friendly interface.
Adaptive Design for All Devices: Recognizing the importance of mobile users, we ensured the website is fully adaptive to different screen sizes, offering an optimal viewing experience whether on a desktop, tablet, or smartphone.
SEO and Local Search Optimization: The website content is optimized for search engines, with a focus on local search terms to attract nearby food enthusiasts. We highlighted the unique aspects of Soyful's Kitchen, making it stand out in search results for Indian cuisine.
Outcome:
The completed website for Soyful's Kitchen is a harmonious blend of traditional Indian culture and modern digital convenience. It's more than just a website; it's a digital ambassador for the rich, flavorful, and soul-satisfying experience that is Soyful's Kitchen. The advanced booking system has not only streamlined the reservation process but also significantly enhanced the dining experience, making it as memorable as the meals served.