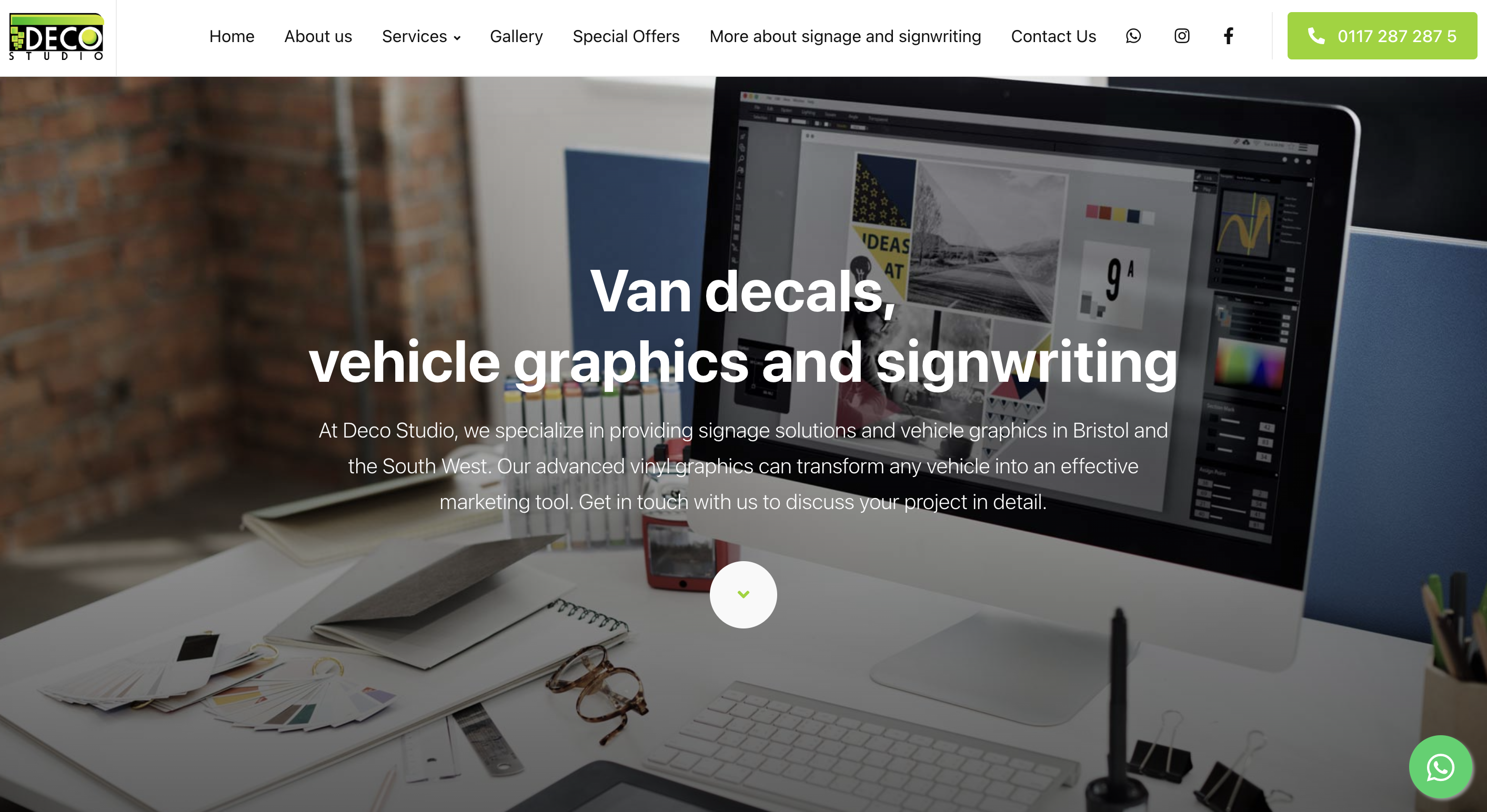 What We Did
Web Development, Responsive Web Design, SEO
Client Overview:
Deco Studio, based in Bristol, is at the forefront of transforming ordinary spaces and vehicles into extraordinary advertising mediums. Specializing in van decals, car decals, and shop signage, they combine artistic flair with practical application to create visually stunning and effective marketing solutions.
Our Role:
We had the privilege of developing Deco Studio's website, an online platform as innovative and creative as their services. Built with PHP, the site is designed for robust performance and flexibility, mirroring the dynamic nature of Deco Studio's business.
Outcome:
The Deco Studio website is a digital masterpiece, reflecting the artistic brilliance of their work in vehicle and shop signage. The PHP-based architecture ensures robust performance and scalability, perfectly aligning with the innovative spirit of Deco Studio. This online platform not only showcases their services but also serves as a dynamic tool for business growth and client engagement.
Design and Functionality:
Creative and Professional Design: The website mirrors the artistic and professional essence of Deco Studio. With a clean, visually appealing layout, it showcases their portfolio of decals and signage, highlighting the quality and creativity of their work.
PHP-Powered Performance: Leveraging the power of PHP, the website boasts advanced functionality, including a custom portfolio gallery, a dynamic contact form, and an intuitive navigation system, ensuring a seamless user experience.
Responsive and Interactive: Recognizing the importance of accessibility, the site is fully responsive, providing an optimal viewing experience across various devices and screen sizes.
Portfolio Showcase: We included a comprehensive portfolio section, where potential clients can view past projects, get inspired, and appreciate the craftsmanship and creativity of Deco Studio's work.
User-Friendly Content Management System (CMS): The backend, powered by PHP, features a user-friendly CMS, allowing Deco Studio to easily update their portfolio, post new content, and manage their online presence efficiently.
SEO-Optimized Content: The website's content is tailored for SEO, targeting keywords relevant to vehicle and shop decals, signage solutions, and local Bristol businesses, enhancing Deco Studio's online visibility and attracting more customers.